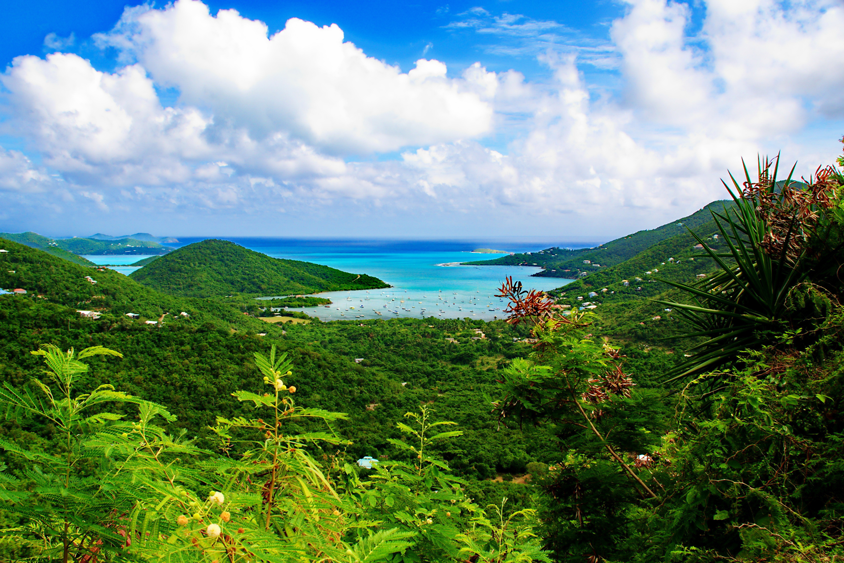 At just 27 square miles, St. John, USVI, is a tiny, three-by-nine-mile island gemstone, little brother to its two U.S. Virgin Island larger siblings, St. Thomas, which is minutes to the west and St. Croix, to the south. Together, the three main U.S. Virgin Islands are a United States Territory, your very own "American Caribbean," with all the security, safety and ease that implies. With plenty of flights from the U.S. mainland, St. John Island is an easy-to-get-to vacation hideaway of inviting, lush emerald mountains, soft white coral sand beaches and a scuba divers' and charter boaters' Shangri-la of stunning coral and aquamarine waters. Two thirds of St. John Island, thanks to Laurence Rockefeller's generosity in the 1950's, is actually the incredible Virgin Islands National Park, which includes 5,600 acres of off-shore marine areas. Many experienced vacationers and naturalists see St. John as by far the most beautiful and striking of the U.S. Virgin Islands. Truly, St. John beckons you to stay, play and live here with us.

Although only a 20-minute ferry ride from the eastern tip of St. Thomas, its scenic charms and friendliness of its residents is worlds removed from St. Thomas.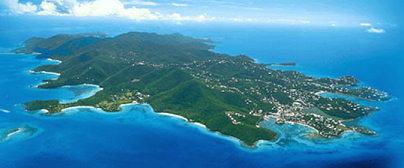 Numerous near-deserted beaches, snorkeling and hiking trails, historical ruins and coral reefs full of sea life populate the island; one of the most tranquil environments you will find anywhere. Leinster Bay St. John USVI

The community consists of an interesting and diverse population of hardworking locals, transplanted continentals, and wealthy retired corporate executives.

While the island is compact, it is also extensive. It would take weeks, perhaps months, to visit and thoroughly explore all the snorkeling spots, hiking trails, and nooks and crannies of historical significance. The views are consistently knock-dead gorgeous. Accommodations range from camping to some of the Caribbean's finest resorts. There is plenty of gourmet dining as well as "pub grub". Quality sailing, diving, kayaking, and power boating excursion opportunities abound around St. John.

The topography is geologically complex, comprised of multi-million-year-old rock formations, which rise steeply from the shore. It's three highest ridges range from 1,147 to 1,277 ft above sea level. Its terrain ranges from sub-tropical forests in the northwest to an arid environment on the east end. There are over 800 species of plants and 160 species of birds to enjoy. Over 400 donkeys freely roam the hills.
St. John's main town is eclectic Cruz Bay, which is the St. John ferryboat arrival point. A variety of shops and dining can be found at Cruz Bay. Regularly scheduled ferries from Red Hook and Charlotte Amalie in St. Thomas create a constant even flow of visitors to and from town. Car ferries also operate. The island is also accessible by ferry from Tortola and Virgin Gorda. It is easy to walk anywhere in town. To visit other parts of the island, you can take local transportation, which comes mainly in the form of open air taxies, or you can rent a car or jeep. A bus service also operates and is considered to be the best value on the island. Land tours and sea excursions for snorkeling and fishing are all available on St. John.
---
SIZE
St. John - 19 Square Miles
POPULATION
St. John has 4,300 residents
LANGUAGE. There are many West Indian dialects which you may hear, most of them are predominantly English based. There are people from all over the Caribbean living here so If you don't understand what has been said to you, politely ask for the person to repeat what they have said. Preface all questions and requests with a greeting first. Customarily, "Good Morning" or "Good Day" will get you prompt service and many smiles.
CURRENCY & CREDIT CARDS. The currency of the US Virgin Islands is the US Dollar. Major credit cards are accepted in many but not all establishments. Ask before you make a purchase or order food. ATM machines are located in banks and at other commercial locations. There is a free standing ATM machine on the West Indian Company Cruise Ship Dock next to the Welcome Center.
BANKS. The following banks operate in the US Virgin Islands:
Banco Popular
First Bank Virgin Islands
Scotiabank
TAXATION. There is no sales tax in the Virgin Islands. Residents pay income tax to the USVI government. There are no state income taxes.
MAIL. The US Virgin Islands are a territory of the United States and therefore use the same postal system and US mail rates. You can mail an unlimited amount of locally purchased gifts back to the states but liquor and tobacco are excluded. These will not count in your total USVI Duty-Free allowance.
DRESS. We are more than just a beach destination and bathing suits and beach wear worn elsewhere, especially in the downtown areas, tends to offend residents. So please, wear proper attire (no bare midriffs or chests) in town and public areas away from the beach.
MEDICAL. For 24 hour medical care call Red Hook Family Practice at 775-2303 (St. Thomas office) or 776-6789 (St. John office) or call Doctors on Duty 776-7966. The St. Thomas Hospital phone number is 776-8311.
ISLAND CREATURES. The mongoose take care of our snakes, the scorpions sting but aren't poisonous. If you are prone to allergies you may have similar reactions to various insect bites and stings.